Technology Websites When You're Bored
Welcome to our fun technology category.  The internet is full of boring websites that try to blind you with science and confuse the hell out of you. But here at Bored A Lot we are a little bit different.  We try to bring you all of the cool tech stuff but with a twist.  These technology websites have been picked by our team of researchers based on their humor, superb animations or just all round coolness.  Whilst navigating this category you can check out sites such as the world flight map. or flight radar 24 live air traffic as it is more affectionately known See in real time every single plane that is in the sky all over the world. Perfect for plane spotters and info geeks.  Or how about blow up my internet page?  If you are getting fed up with certain pages then set a 3 second timer and watch the page get blow up.  We have tried this on some of our competitors and absolutely loved it.
But one thing that these technology websites all have in common is the fact that all of them are guaranteed to keep you entertained when you're sat in the house or office when you have nothing to do.  Because technology is so advanced these days you can also access these pages on the go on your mobile or tablet. So instead of scrolling through Facebook or Instagram while you are waiting for a bus give us a try. We promise you won't be disappointed when you look for what to do when you're bored
When you're done with this category don't forget to visit our other pages. We have thousands of websites to explore when you're bored ranging from the awe inspiring to the downright odd.   And if you can't be bothered to search our site you can simply hit the random website buttons for us to take away the hard work from you.  Enjoy!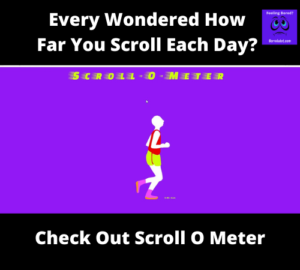 Scroll-o-meter – How far can you scroll? There is only one word that we could possibly find to say about this truly amazing website. That
Read More »