Felling Bored and Frustrated? The Destroy My Computer Is The Game For You
Destroy My Computer is a cool game that lets you punch and beat up your computer with your virtual fists. You are given a mouse, a keyboard, a monitor and hard drive, and the aim of this game is simple. thump, slap and bash your items to within an inch of their lives.  This game is perfect for curing boredom and frustration.  Smash your desktop into smithereens for the fun of it.  And when you are done. click the 'Repair' button and start all over again.   This game is sooooo satisfying!!
Let us know how many punches it takes to destroy my computer in the comments section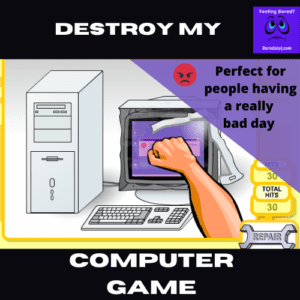 Take Me To This Website    Hit Me A Random Website
Looking for more things to do online?
This link is part of the bored games category. Here you can check out the strangest and weirdest games on the internet. So instead of typing Google I'm Bored give games such as the 100 meter scroll and the drunk walking game a go.  Sure they are not as popular as your famous shoot em ups, and maybe they lack the graphics of a multi million dollar blockbuster, but these are all the more funny and just as addictive, so give them a go and put an end to that boring day.   When you are done with that category, move onto the next, we have 1000s of links that cater for every taste and every type of boredom.  While you are here why don't you also pay a visit to our online forum? chat and share stuff from all around the world relating to things to do online and what people are doing to cure boredom. It would be great if you could pop along and say hello.