Spy On People When You're Bored With This Real Life Camera
Are you sat in the home or office bored out of your mind? then check out this ultimate invasion of privacy,  Real Life Cam films different couples and singletons who have cameras set up through their house where you can watch absolutely everything they are doing.   You get the living area, a kitchen, and guest bathroom for free. However, If you want to push the boat out and get access to the bedroom and shower, then that will cost you a membership fee of $30 per month. Now, what is weird and totally strange about this site is that It's completely uncensored and unedited, so if you want to look at people 24/7 watching TV, making food, or even taking a dump then this is the weird website for you.  If you're into that kind of thing you may even find people taking part in some nocturnal activities.  This site is currently ranked in the top 2000 websites on the planet.  Find out why by clicking the link below, or if you want to move on hit the random website button and we will transport you to another useless website in our vaults.
Let us know what you saw on this real life camera in the comments section below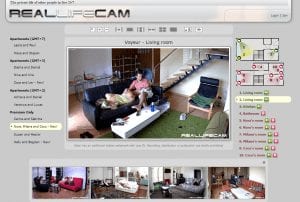 Take Me To This Website
Hit Me A Random Website
This link is part of the weird websites category for boredom. Here you will find a huge array of sites that are wacky weird and wonderful all rolled into one.  They are perfect for wasting time in the home, office or even on the go. Where else would you be able to find out your true human value in $ or a cut out Elon Musk mask.  We even have an online Ouija board for you to contact the other side. There are simply 1000s of websites to keep you occupied for the whole day.  So close the curtains, lock the doors and get the snacks in.
We promise you that you will never Google I'm Bored ever again.