Feeling Artistic? Try This Online Graffiti Maker
This amazing website is perfect for people who are bored at work or at home and are looking to bring out their creative side. This online graffiti maker gives you the opportunity to sit back and create your own pieces for the community to judge. Pick your background, for example a brick or cemented wall and use a pallet of colours and effects to make stunning works of art. You can gain inspiration for your design by seeing some of the best graffiti as voted by the community.
So if you are fan of graffiti and are looking to practice your trade then this is the website you need. Because it is virtual, you can stay in the warm and stay out of trouble until you are ready tpo unleash your creation to the public, so get spraying and share your artwork with us in the comments section below.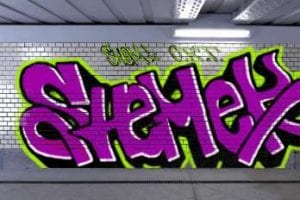 Take Me To This Website Hit Me A Random Website
Still Bored
This art and craft website is part of a bigger category that allows you to bring out your creative side. Here you can see 100s of websites including playing with virtual Lego and learning origami. Don't forget that if you own a website to cure boredom then let us know, we will try our best to add it our vaults
If you are still saying im bored then hit the home page and see the 1000s of sites to cater for every type of person and every type of boredom. We promise you won't be disappointed.