Nothing to Do at Work? Try These 5 Things to Ease Your Boredom!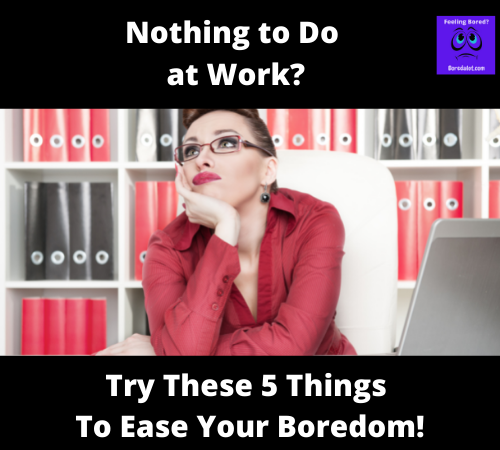 So, you're at work, and you have nothing to do. What now?
You may look around you to see what your colleagues are doing, scroll at your phone and check your social media accounts, maybe take a coffee break, then wait in silence until 5 p.m. rolls around. Well, that doesn't sound very interesting, does it? Don't you think you can do better?
Read through our list below to find out how you can be productive and have fun when you're bored at work!
1. Clean Your Desk
A messy space makes for a cluttered mind! Maintaining a clean office desk isn't just to make your workspace look good—your environment can significantly impact your productivity and morale. Having a disorganized desk will only lead to misplaced documents, lost items, increased stress, and wasted time, all of which can eventually affect your work performance!
If you have some time on your hands, take a moment to organize your workspace and get rid of clutter. Clear out your cabinets and drawers, wipe down every surface, and sort your documents. It may take a bit of work, but the future you will thank you for it!
2. Organize Your Computer
The desk isn't the only thing you need to declutter—you have to clean up your desktop, too. Having a cluttered desktop will also stress you out and affect your productivity!
No one will feel motivated to work when there are many screenshots and files scattered on their desktop as soon as they turn the computer on. 
This is your chance to organize your desktop! Now, you can finally update your software instead of clicking on the "Remind Me Later" button, sort your unnamed folders, and delete those documents, photos, and videos that are taking up space. 
Don't forget to clean the laptop itself! Wipe down your screen, keyboard, and other hardware to ensure it's clean as it can be.
3. Upskill Yourself
Once you've fixed up your workspace and your electronics, it's time to work on yourself! The industry constantly evolves; if you want to remain ahead of the competition, you will have to grow. Staying ahead of change by improving yourself will ensure that you will advance in your career and have a prosperous future.
If there's still a lot of time to kill before the end of shift, improving your skills is a great way to ease your boredom while getting something out of it. You can reinvent yourself or sharpen your abilities by learning and practicing.
4. Learn a New Language
You may have thought about it a few times or already have it on your bucket list but have never brought yourself to actually carry it out. Learning a new language is not easy, but you'll never be able to speak a foreign language if you don't start now!
Learning a new language while having a full-time job is in no way easy, but it is possible. Now that you have some free time, you can squeeze in some language courses! If you think learning a new language is too heavy of a task, you can read about language games instead, such as Pig Latin.
5. Play Online Games
Everyone needs a brain break from time to time—you can't always be productive. If you're already done with work for the day and have some time left, why not play a few games on the internet? Bored A Lot has thousands of random online games to play when bored—you're sure to have so much fun, you may even lose track of time!
Conclusion
Feeling bored at work is normal; it happens to everyone. Sometimes, you finish your tasks earlier than expected, and you're left with time to yourself. Boredom is supposed to be a good sign, but it can be stressful when there's a lot of time to kill in the workplace. Make the most of your free time so that you can go home feeling content and accomplished.
Are you feeling bored at work? Bored A Lot can help you ease your boredom! We have the most diverse set of internet games to play when bored for any type of person. If you can't be bothered with looking for the right link, you can click any random website button on our page instead! Check out our list of websites today!