Play The Nokia Snake Game
Back before the turn of the century (1998) the Nokia snake game was loaded onto all of their phones. It fast became a retro game for all bored people that wanted to kill time.  Sadly, as the dawn of the smart phone happened, the game started to disappear for more modern time killers.  The player basically controls a dot, this dot has to eat other dots which makes the snake bigger. Aim if the game is to make the snake as big as possible. You loose the game if you hit one of the boundaries, or yourself.  This game is perfect for people who want to relieve their bygone 90s lives, or people who have nothing to do and just want to waste some time.  So the challenge is on.
Post in the comments section your highest score for the Nokia Snake Game
Our Score is 19. which we are pretty impressed with (See proof of this below)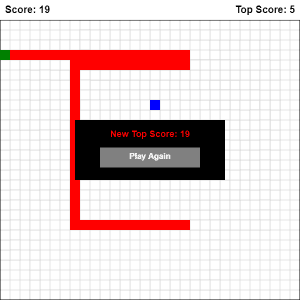 Take Me To This Website
Hit Me A Random Website
This post is part of the cool games for boredom category which includes classics such as the t-rex game (Yes, the one you can play on google) and the drunken walking game, who far can you stagger home after a skin full of alcohol?  These aren't the normal games that you will find on standards boring web pages.  These are some of the funniest and weirdest games that we have plucked from all 4 corners of the internet. We hope you like them
When you are done with this category, why not take the rest of the day off work or the housework and navigate around the 1000s of links to cure your boredom. We have something for every niche and we promise you will not be bored.