Watch NASA TV Live
Are you fed up of watching the same old TV channel? The why not give NASA TV live a go? Created by those clever boffins at the National Aeronautics and Space Administration you can now see around the clock science, techy and geek stuff online for free. There are three channels on this site.
Public, this shows all of the live podcasts from the crew of the international space station and interesting space videos. This page also shows you all of the live rocket launches that happen. Pretty cool eh?
Media, this page shows you all of the historical videos from the NASA video library
ISS HD – Want to see what the international space station sees? then see planet earth in stunning HD.
NASA TV is perfect for the space geeks in the world and people who love science.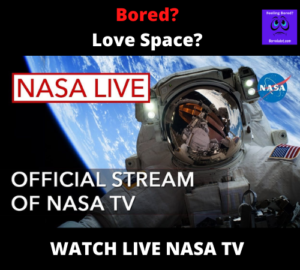 Take Me To This Website  Hit Me A Random Website
More Fun Stuff To Do
If you loved this post then check out the other site in the live web cam category. Here you will see all of the websites that provide a live and sometimes interactive webcam for your pleasure.  Where else would you be able to see grass grow in front of your eyes?  Or if you are feeling really brave then you can see some real live ghost cameras.  They are spookily fantastic.   Don't forget, if you think that you know of a website that would fit into this category then let us know in the comments section and we will try to add it to our archives.