Feeling Bored? Then Take The Mount Everest Virtual Climb.
If you're sat in the home or office wishing for something cool to cure your boredom, then why not go on a Mount Everest virtual climb? This amazing animation follows the perilous track from Lukla through the Khumbu region to the Southern Base Camp.  From base camp, it the trial leads through the dangerous and inhospitable Khumbu icefall, followed by the glacial valley of the Western Cwm, this is where Camp 1 and Camp 2 are located.  You are then taken through a steep ascent that leads up Lhotse Face to Camp 4 on South Col at approximately 8000 m. On the day of the push to the summit, climbers will need to firstly master the Southeast ridge and Hillary Step, before they finally reach the summit of the highest point on planet earth.
This amazing website provides you with a pixel perfect journey from the comfort of your own space, you will not feel the cold and we are pretty sure that will not get any frostbite.  You will even get a load of facts and figures along the way to allow you to convince your friends and family that you have actually taken part in a Mount Everest Climb.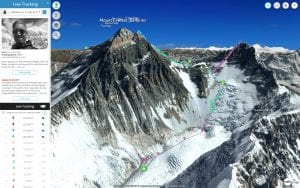 Take Me To This Website    Hit Me A Random Website
More Boredom Cures
This post is part of the cool websites for boredom category. Here you will find loads of links that have been specially selected by us as our favorites, such as the White House Virtual Tour and the ever popular Bruce Lee Movie Maker .  Don't forget that we are currently accepting submissions, so if you know of a website that will fit into this or any other of our niches then we would love to here from you.  If it is unique and allows people to waste time more effectively then we will permanently add if to our vaults for all of our readers to access.