Bored The Home Or Office? Now We Can Make You Look 20 Years Older
Are you sat around thinking im bored and looking for something fun or different to do? Well you have come to the right place. Now there is a really funny website that can make you look 20 years older. If you are feeling really adventurous you can even go to 30 years. Simply upload your photo, state your age and whether you are a male or a female, and of course if you are a drug addict or not. This obviously makes a difference, and away you go. Your face will be analysed by the cutting edge software and you will be fast forwarded into the future. This website is perfect for people who may have been partying too hard, or working too hard in recent years, and you want to see if this has taken its toll on your youthful looks. It's also great for men who want to see if their wives will look like their mother in law in the future. As scary thought for some. Whatever your motives are this is guaranteed to keep the boredom at bay for at least a few minutes of the day.
If you are brave enough to show us how you look 20 years older, then drop a picture in the comments section.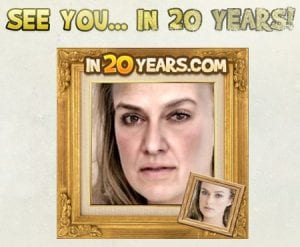 Take Me To This Website
Hit Me A Random Website
This website is part of the cool websites category. Here you will find a selection of sites that have been specially picked by boredalot for their general all round coolness. If you think you know of or own a website that we would love then get in contact with us. Providing your submission is unique, and of course able to cure boredom we will add it to our vaults.