Bored Of Your Single Life? Then Check Out This Funny Dating Profile Generator
Are you getting fed up of your single life? would you like to try yourself on the dating scene and really sell yourself with a kick ass write up?  Or are you simply just curious what your dating profile would look like? Then this is the perfect website for you.  It's funny and interesting all rolled into one.  Simply chose the type of profile you would like to select including:
Cheesy
Sleazy
Arrogant
Angry
You will then be asked a series of questions as to your likes and dislikes.  Following a comprehensive questionnaire, you will then be presented with your very own dating ad profile for you to use or laugh at.  Not only is it perfect for your own use.  You can also create profiles for your friends and co workers as a really funny practical joke.  If you are feeling really brave then you can 'go random; and see what the app the website throws up for you.  Be warned!  you may not get a date with it.
Let us know in the comments section whether your dating profile worked? or if you crashed and burned?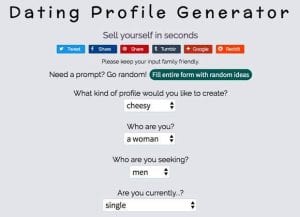 Take Me To This Website
Hit Me A Random Website
If you loved this website, then check out the others in the just funny category. Where else could would you find hilarious websites such as FUNNY TALK OBAMA TO ME, a website that recreates your sentences as spoken by the former president of the United states. or the EVIL TOMATO HATERS of the world, yes, people who hate tomatos to the core.
Don't forget, If you own or know of a website that we would love, then submit it to us using any of the call to action buttons or via our menu, If it is unique and funny then we will try our best to add it to our vaults.