Bored At Work? Then Try These Funny Computer Pranks
The geniuses at Geek prank have come up with this really funny website that allows you to prank your office co workers into thinking their computer is broken, hacked or has a virus.  If you are feeling naughty and mischievous and you love a good prank or practical joke, then this is most definitely the website to cure your boredom.  Choose from scenarios such as
Switching the screen to windows 7
Pretending the screen has been been cracked beyond repair 
pulling up a really convincing virus attack.
When someone goes to the bathroom, or to lunch. pull up this website. Select the type of prank you would like to pull and away you go.  After selection. Hit the F11 key to activate full screen, sit back and watch you colleague squirm and scream as the frantically try to fix the fictitious problem.   Have hours of fun at someone else's expense from the comfort of your own office.
Let us know in the comments section which funny computer prank s you managed to pull off and what their reaction was.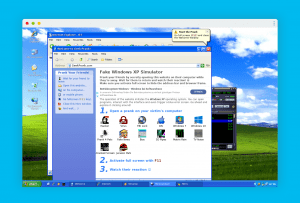 Take Me To This Website
Hit Me A Random Website
If you loved this funny prank website, then check out the others in the feeling mischievous category  Here you will find other sites, including shipping your friends and enemies poop and glitter.  (We like these ones) . You can also visit our sister site.  Prankalot.com.  the home of the best pranks, gags and practical jokes. So you can literally spend hours of your boring day pulling every type of practical joke imaginable.
If you have or know of a site that would fit into this or any other category then please let us know.  If it is a unique and different site we will try our best to add it to our vaults.  You can submit a site to us via the menu tab at the top of the page.