Create Your Own Super Hero
The clever people over at Marvel comics have now come up with a really cool way to kill time and get you through the day . If you love Spiderman you can now start from scratch and create own super hero.  Choose weather you want the male or female look and away you go.  Change the style of the warrior, design the amour and the colours you want to you use and there you have it.  Before you know it you have created your very own super hero for you to show off to your friends and family.   Spend hours perfecting your design from your boring home and office and start all over again when you're done.  If you loved this creative website then let us know in the comments below.  You can even share your designs with us.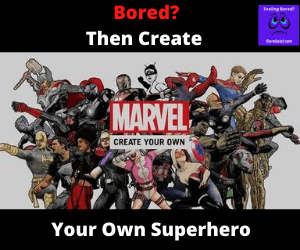 Take Me To This Website      Hit Me A Random Website
Have Another Random Website
This site is part of the creative websites category. Here you will find all of the boredom busting websites that will bring out your artistic juices.  Don't forget, if you know of or even own a website that would fit into this section then let us know.  If you submit to us we will try our best to add it to our vaults for the rest of the bored world to see.