Brain Training and Teasers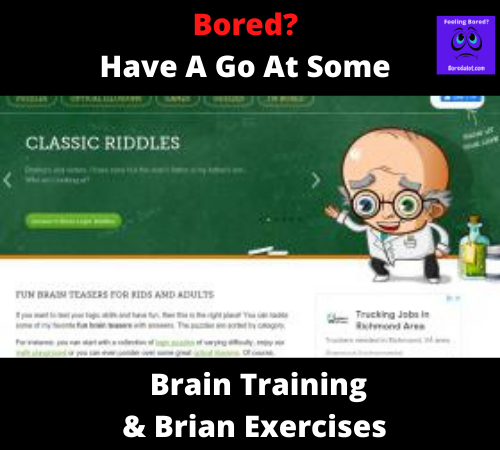 Do you love logic and all round brain training memory stuff? Well you have landed on the right page. Packed full of puzzles, riddles and quizzes, the brain den is the site you need to get your grey matter working after a long and boring day.  Explore the Maths playground.  A page that is crammed full of fun math based questions.  Or how about the optical illusions page? Test your eyes and your powers of observation. We personally loved the scary category! For all of these pages, if your stuck you can see the answers straight away. So, rather than losing you mind and throwing your device out of the window in frustration, you can get relief from knowing that enlightenment is only a click away.
This website also has a really cool forum where like minded people can get together and talk about all things clever and interesting. With 1000s of posts about pretty much every subject relating to quizzes and tests, this is one of those sites that you can easily lose yourself in for the day if your bored at home with nothing to do.
More Fun Stuff To Do Online
This link is part of the brain training websites category. Here you will find all of the websites that clever people frequent to keep their mind tip top.  If you want to be one of these people then get exploring and see what else we have to keep you fresh and edgy. The best ted talks ever, and the ever popular learn the Klingon language are some of the examples you can stumble upon.
Bored a lot is the internets biggest resource for boredom around the world. Our collection of weird websites, fun websites and useless websites keep thousands of people a day occupied. Come and join the gang and search our archives, or hit the random website button.