Feeling Bored? Then Play This 2D Driving Simulator.
This amazing bored website allows you to drive around any location in the world using google maps images.   Simply select a location. Preferably one with a road on it and use the arrow keys to stop, go and turn.  Drive as quickly or as slowly as you want, and you can even use keys to switch your turning lights on.
If you are fed up with driving around your own street or town, then chose one of the pre-selected cities to test your skills, such as the streets of London, the bustling metropolis of Manhattan.  You can even drive around the Suzuka formula 1 racing circuit.   We promise you that you will not be bored playing this really cool website.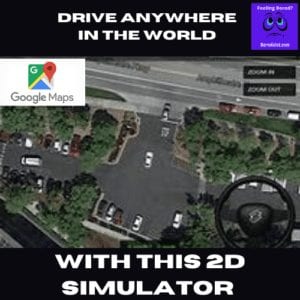 Take Me To This Website       Hit Me A Random Website

Still Bored?
This 2d driving simulator is part of the the cool games for boredom category.  Where else can you find games such as the classic t-rex running game, or the drunken walking game. How far can you walk after a night on the booze? Don't forget, if you know of or own a website that you think fits into this category, then let us know. If it is unique, quirky or different, we will try our best to add it to our vaults of bored websites.