1 Second Clicks
Bored at work or home? Are you sat there with nothing to do. Then lets see how accurately can you make 1 second clicks for 10 whole seconds?  This awesome game and cool website puts your internal clock, your dexterity skills and timing to the test. Can you make 10 perfect 1 second clicks?  If you can you are far better than us.  The key to this game is to train your finger to click at exactly the same intervals.  Once you become a Jedi Master you may even hit the holy grail of 100%
Let us know in the comments section how close your came. We were 87% accurate!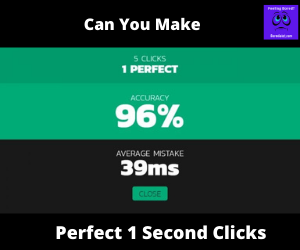 Take Me To This Website Hit Me A Random Website
This link is part of the dexterity tests category. Here you will find a huge range of posts that are designed to cure your boredom by using your hand to eye coordination.  We have weird and usual places to visit which include  typing games, folding a world record breaking paper air plane and  if you are feeling really brave, you can play the worlds hardest game using only the QWOP keys.
And remember, if you know of or even  own a website that you think our readers would like then submit it to us.  If we like it then we will add it to bored a lot for all time.