Say It With Llama Font!  Write What You Like In Llama
Have you ever been so bored that you wished that you could write in Llama style font?  go on! admit it!  well now you can with this utterly pointless website.  Create any word or sentence you like in this stylish and beautiful Llama font. This site is perfect for animal lovers or anyone that is fed up of good old fashioned 'Times New Roman' Or Ariel font and are looking for something a little bit weird and different.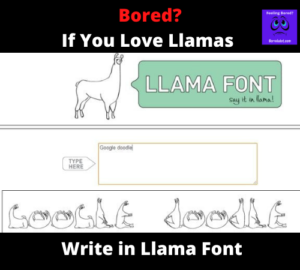 Take Me To This Website   Hit Me A Random Website
I want More Fun Stuff
This link is part of the useless websites category. This section is home to the most pointless sites on the planet. Where else would you be able to find classics such as slap a dude with an eel? Yes, you've got it!  You can wack a real life fisherman in the face with a slimy eel. You can also visit the virtual button museum, a website dedicated to every button and badge that has ever been designed.  Rock and Roll eh?