Cure Your Boredom Now With The Worlds Most Dangerous Writing App
The Worlds most dangerous writing app is a really cool website that challenges you to write constantly,without stopping for a set amount of time. Start off slow with 5 minutes of typing, and the move through the levels until you get to become a hard core ultra typer with 40 minutes of continuous finger torturing typing. There is even a super hard hardcore mode to this game where it blurs the words to make it even harder.  Remember. Don't stop typing, or all progress will be lost.
So if you are having a really boring day, and you want to improve your typing skills, then check out the Worlds Most Dangerous Typing App. Please try your best not to smash up your laptop or keyboard when you keep failing.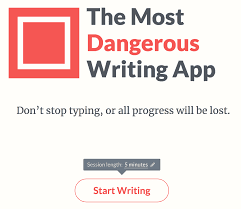 Take Me To This Website Hit Me A Random Website