Help to create the worlds longest marble run
Do you want thrill and excitement in taking part in the worlds longest marble run? then this is the website to cure your boredom. If you're having a really boring day at work, or you are stuff in the house with noting to do then here you go,  The game equips you with lots of different tracks and objects, the aim of the game is to build the most elaborate run when you hit the 'drop the ball' button.  When you have completed the masterpiece, your creation will be added to the run.  As the project gets bigger and bigger the more special brinks that get unlocked. and with these unlocks you can then add to the world longest marble run.  At the point of writing this post the current length is nearly 90,000km, which by our crude mathematics is 1 fifth of the way to the moon.
Post your best Marble run creations in the comments section and show off your best work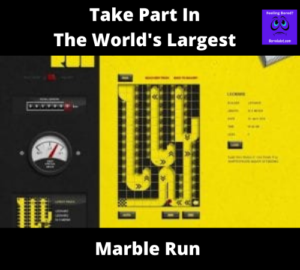 Take Me To This Website    Hit Me A Random Website
This link is part of the useless websites category. The home to the most pointless sites on the planet. If you're looking for the weirdest and most bizarre additions the internet has to offer then check out this section.  We promise there will be something for everyone.