Worlds Dumbest Game
As the title of this post suggests, this is the worlds dumbest game. And you are quite simply presented with one important task to complete.  All you have to do is hold a button down by a click of your mouse and see how long you can hold it down for.  It literally is that simple. As soon as you let go of the button your time is given and you you can see the leader board to see who has held the button the longest.  Now the question is how bored are you? or more importantly, how relentlessly stubborn are you to hold that button down to beat our record?
Now we were able to take the world dumbest game and last a whole 47 minutes and 46 second. before we relented.  However we forgot to save the screen shot and we're simply too bored to try again, please believe us,  so the challenge is on. who can beat our time  and cast yourself as legend.  Please add your times into the comments section below.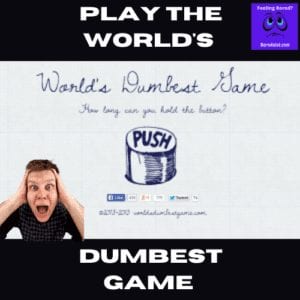 Take Me To This Website    Hit Me A Random Website 
Want More Bored Websites?
The worlds dumbest game is part of the dexterity tests category. But we also agree that this is also a pretty pointless website.  However, in this category you will be able to test your hand eye coordination with loads of links you can try on your mobile, tablet or laptop.  Why not give the QWOP running game a go? this is probably the hardest game on the internet and will have you in stitches trying to get an athlete to run y just using the QWOP keys.  Or why not try the 100 meter scroll?  How quickly can your finger scroll through 100 meters?  This is a tough one. We promise you that boredalot has 1000s of websites to cure boredom. So never Google i'm bored ever again.