Why Sign Language Is a Useful Skill for Everyone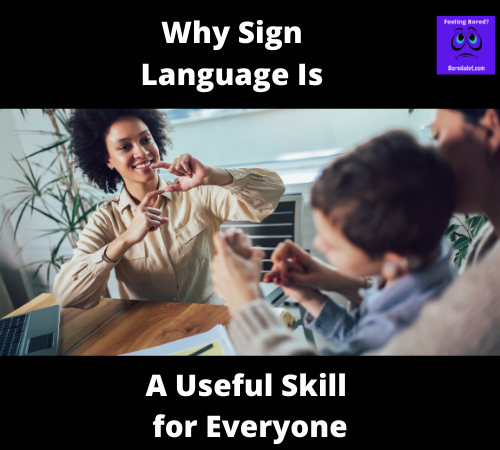 If you want to study a new language or just want to learn something new that's quite useful, then you might want to try sign language. In the hearing loss community in the US, ASL or American sign language is one of the major forms of communication used. It's pretty much like learning any other language with its own grammar and set of rules, but with an entirely different approach. If you're willing to learn sign language, here's what you need to know about this awesome form of communication.
Why Learn Sign Language?
The deaf community is quite large, and learning sign language will allow you to interact with members of the community. ASL allows you to meet new people, and you'll become more sensitive to the environment around you just by knowing how to use it. Not only is learning a second language good for your brain, but it's also a great way to expand your communication skills. In a way, it can help you become a better person along with other perks:
ASL makes you more observant and aware of your surroundings. You never know when you find yourself in a situation where your proficiency in ASL could come in handy. If there happens to be a deaf person having difficulty expressing their meaning, you can easily help them out.

It also raises your awareness and makes you sensitive to the challenges the deaf community has to face on a daily basis.

ASL also helps you become smarter and a better communicator. Learning sign language enriches your cognitive processes and helps you develop higher abstract and creative thinking. It's also a great way to enhance your problem-solving capabilities and your body language skills.
ASL in the Workplace
If you're looking for an excellent skill to add to your resume that can easily impress any potential employers, being proficient in sign language is one of them. Here are some industries where ASL can be of great help to you.
Educators –

If there is one industry that could greatly benefit from ASL-proficient individuals, that's the education sector. Many opt to learn ASL so they can accommodate students who are deaf or hard of hearing in their classroom. Educators with ASL teacher certification are qualified to teach ASL to both hearing and deaf students.

First Responders –

Knowing ASL is an invaluable skill when it comes to emergency situations. Whenever there's a fire, an accident, or a natural calamity, communication is of the utmost importance. First responders with knowledge of basic sign language can be of great help when communicating with someone who is deaf or hard of hearing and is in a critical condition.

Service Providers –

Anyone providing valuable services to people can also benefit greatly from learning ASL. Social workers, counselors, psychologists, and medical professionals can make their work easier when communicating with deaf people. They can cater to a large community of deaf people who may be in need of their services.
Conclusion
Since the passage of the Americans with Disabilities Act, ASL has become one of the most popular languages to learn. Sign language is a great way to communicate in a rich, meaningful way. It helps you expand your vocabulary beyond just verbal communication but also through sign language.
If you're looking for more exciting facts about sign language and other topics, Bored A Lot is the place for you. Our website is filled with fun games, interesting facts, and random websites that can make any downtime more bearable and enjoyable. For more weird websites and the like, browse our full list of activities to do and read.