Everyone loves sloths right? Well this game is right up your street.  Using your mobile pinkie or your mouse you can navigate around the screen until you come across the gangster sloth. He is out there somewhere we promise you.
Track Him down
Once you find him you will see the little fella appear in his gangster sunglasses with some of the coolest gangster music you can think of.  Every time you play this game the location of him changes, this means that you can keep playing this time and time again. It is also really cool for kids to play along with. 
So if your sat in the home or office looking for something fun to do when your bored, then give this a go. It's fun, stupid and useless all rolled into one!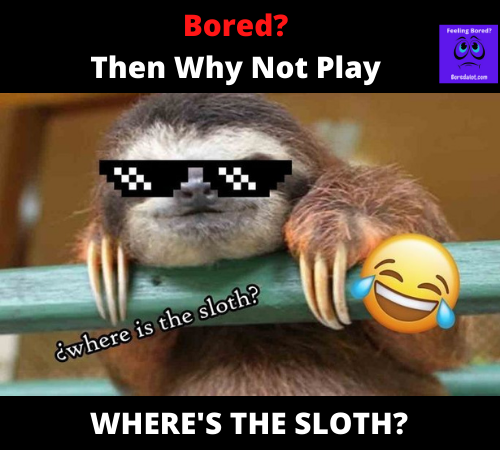 More Bored Games
This Website is part of the bored games category. But these aren't your conventional, boring 'shoot em ups' No! these are some of the weirdest and most bizarre to ever grace the internet. Games that we have found in the darkest corners of the internet.  Why not try out the drunk walking game? A website that see's if you can walk back home after getting sloshed in the bar? Or how about playing the world's biggest Pacman game? Thousands of individual Pacman screens all linked together for you to play until the end of time.
What's for sure is that you will never be sat in your house bored again. Bored A Lot is the home to the best and the most unique websites on the planet. Across tons of different categories, choose a niche you like and away you go.  If however your looking for some inspiration, then hit the random website generator and let us take care of thing on your behalf.  Enjoy!