Take The Smithsonian Museum Virtual Tour
Rather that travel to Washington DC. (That would be a bit extreme if you're bored) This cool website is just perfect for history lovers. The Smithsonian museum Virtual tour can be taken from the comfort of your front room. This museum is fully interactive and allows you to move around at your own pace, zoom in and out and get piles of information along the way. As one of the largest museums in the world, the Smithsonian is just one of those dip in dip out websites. Split into loads of different sections, you really can lose your day when your looking for things to do online when your bored. Dinosaurs, artifacts and bags of information to keep you occupied. This website is viewable across all devices, including mobile, which means that those long car journeys just got a whole lot better.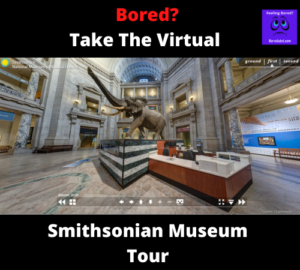 Take Me To This Website Hit Me A Random Website
Things To Do Online
If you're still bored and looking for something fun to do then look no further. Bored a lot is the internets largest website for people looking for funny, weird or interesting websites. Navigate around our site and see that we really do have something for everyone.