Virtual Bubble Wrap
Virtual Bubble Wrap allows you to indulge virtually in the most calming occupation – if you're painfully bored then popping this bubble wrap is the fix for you. Unfortunately, you won't be able to feel the pleasure of the pop in your hands. However, you'll hear the same delightful and soothing popping sound. With the option of switching to "Maniac Mode", you are able to pop bubbles much faster and frantically.  This is another website from our archives that's as weird as they come. But oh so satisfying!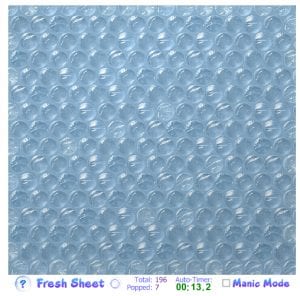 Take Me To This Website    Hit Me A Random Website
More Bored Websites
This link is part of the useless websites category, the home to the stupidest websites known to man. If you're stuck in work with nothing to do, or sat in the house twiddling your thumbs then check out these fun things to do online. All of this is courtesy of the team at bored a lot.