Cure Boredom Now With This Really Cool Ugly Christmas Sweater Designer
Are you fed up with wearing the same boring old Christmas jumper every single year?  Feeling bored and wanting to do something fun and different? Well now you can change all that.  This Ugly Christmas Sweater Designer allows you to create your very own ugly and unfashionable attire for all to laugh and joke at.  You can chose your pattern and the colour you want.  You can even upload any image, as well as writing in whatever text you wish.  The possibilities are endless. Then, when you are done with your designing, you can pay for your creation and get it shipped within 10 days.  Once more, if you are a practical joker, then why not surprise a friend or family member with an Ugly Christmas Sweater of their own.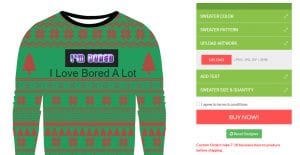 Take Me To This Website
Hit Me A Random Website
This hilarious and creative site is part of the cool shopping websites for bored people category.  Where else can you buy such classics such as pet slippers,  a website that allows you to create footwear that is a clone of your family pet.  Or even a Poo Shipper.  If you are feeling bored and mischievous, then why not send your friends and family some stinky poop.
Don't forget, if you know of any websites that our readers would love to waste time on, then let us know.  You can submit a post to us via our submission area, or you can contact us via email or social media.  We would love to hear from you and will try our best to add the link to our vaults for all to see.