Here at Bored a Lot we try to bring you some of the weirdest and most unique websites on the internet. And here is an absolute beauty for you.  From the far reaches, our researchers have come across the typewriter database. Now we appreciate that this may not be for everyone. However, we are pretty sure that at some point in time, someone will hit the random website button and say, 'Hey' this is the cure for boredom I need.
What is it all about?
As quoted by the webmaster, The "Typewriter Database" is the biggest source of typewriter serial numbers on the Internet today With over 2500 models dating from the 1800's this is the one stop resource for everything you need to know about this forgotten piece of stationary. As well as the models it also has information about the 6200 patents that were logged and the 7500 type faces that have been created. The owner of this website is clearly passionate about the world of typewriters and this could be the ultimate boredom cure for at least one person around the world.  Should any of these typewriters tickle your fancy, you are also able to search for them on eBay and purchase something from a bygone era.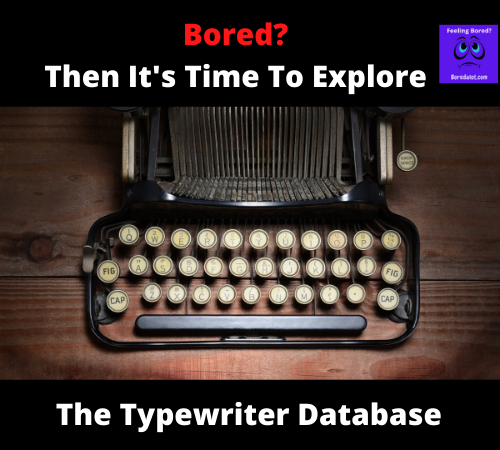 I need more stimulation
This link is part of the interesting websites category. The home to all round clever and brain training stuff. Here you will be able to do and learn cool things such as the live earthquake map and the licence plate directory.  All of these sites are guaranteed to stimulate your brain and teach you something you never thought you would learn.  And that's what makes us great. We are the home to the most obscure websites the internet has to offer. With our Random website generator you can sit back and scroll through our archives for the rest of the day. With 1000s of links and blog posts we are the only resource for bored people around the world.