The Traffic Cone Preservation Society.
If you are completely bored out of your mind, or you have a deep love of traffic cones, then this is the website for you. Up until the late 20th century, traffic cones weren't thought worthy enough for a scientific study. It is therefore the Traffic Cone Preservation Society's mission to pay back those centuries of neglect and hardship. By preserving and studying the "Helpers of Humanity," they hope to allow future generations to have the opportunity to enjoy these magnificent tools of industry in their natural habitats.
Learn what the different colour cones represent, their history and heritage and of course their latin name.
A pictorial history of the traffic cone
The evolution of the traffic cone through time.
And of course, the all important membership process.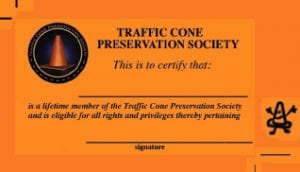 Take Me To This Website Hit Me A Random Website