Top 40 Coronavirus Quarantine Songs to Keep You Happy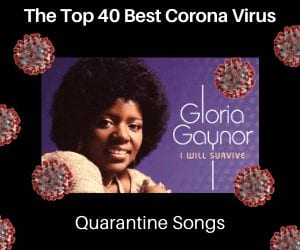 In times like these it is very easy to slip down the slippery slope of depression, anxiety and hopelessness. However, do not fear because I am the ultimate quarantine DJ who is here to keep your spirits high and flying with the best 40 coronavirus quarantine songs around. So buckle up, it's going to be the ride of a lifetime.
1. Staying Alive- Bee Gees.
This one goes without saying really, classic song from the 1970s come alive again to do exactly what it says on the tin.
2. Happy- Pharrell Williams.
This song mentions the word "Happy" so many times you will actually get brainwashed into thinking you are exactly that
3. Feeling Good- Michael Buble.
This is a great song. All around great lyrics, great artist, great message. Just the perfect Covid 19 message to be spreading around the world right one. Absolute banger. 10/10.
4. Don't Stop Believin'- Journey.
Another of these ultra-positive songs that will keep you powering on through the whole of quarantine and beyond. Also, a great sing along song to annoy those who you live with.
5. Somebody to Love- Queen.
For when you are all alone in quarantine with no one to snuggle up to at night. Much like the person writing this as a matter of fact.
6. I Will Survive- Gloria Gaynor.
Everyone seems to know this song, but I doubt many know who sung it. Well, it turns out that Mrs Gaynor is the creator of one of the most fitting songs of the 21st century (so far). Give it a listen and soon you will be singing from the rooftops.
7. My Heart Will Go On- Celine Dion.
The context of this song may be a little morbid but that was not my intension. Instead, think of it as a happy-clappy sing along skill to sing with the poor family members you are stuck with for the indefinite future.
Again, this is not intended as a sad song, just another sing along to really make sure that those you live with don't  want to kill you in a week's time. Assuming they have not already.
I do not think you can find a single person who does not know at least the chorus to this song so this is what I suggest. Find the loudest speaker you can find and play this song over your garden fence. See how many people you can have singing it along with you before the police show up. Definitely worth a go.
I do not know about you but I do enjoy a good Coldplay song, the old Coldplay though, not the new Coldplay, and this is a top 3. So enjoy- it has some really sweet lyrics that are sure to have you smiling.
This is another of those songs you just have to sing out loud. With a friendly guitar riff and some great vocals, you just have to give it a listen, you will not be disappointed.
12. Nevermind- Dennis Lloyd.
I first heard this on a car advert about a year ago and quickly fell in love with it. I spent ages looking on Shazam, YouTube and even Spotify for this song, until, one fateful day at the gym, the same song was playing on the radio… And there it was, the song I had been searching for. So to save you the trouble that I had, here it is. Enjoy.
13. Mr. Blue Sky- Electric Light Orchestra.
I think this has to be the happiest song in the worlds right now, and one that I actually know all the words to. And so will you after you have played it 50 times over.
14. What You Know- Two Door Cinema Club.
At this point I am just ripping songs off of my Spotify playlist but here is another great sing along tune that almost everybody should know at least the chorus to. Give it a go.
15. Virus- Martin Garrix & MOTi.
I have clearly chosen this song because it has the word "Virus" as the title but it is genuinely a good song and is the reason I love EDM/DnB music today. It will 100% get you dancing.
16. Jump Around- House of Pain.
Seemingly played exclusively at American College sports games, this song is great and like the last one (although it may lack the fitting title) will have you dancing in no time.
Another one hit wonder on the list, one that you definitely know all the words to. Doesn't it seem like the nights roll into days during the boredom of the lockdown? Well hopefully this will get you through it. 
I had to throw some rock into the mix and this is one of best. So enjoy.
19. Stuck in the Middle with You- Stealers Wheel.
Another song that everyone knows the words, or at least the chorus, but no one knows the name of the song. It also may be a good representation of you current living situation. Plus, this will definitely get you digging out your Reservoir Dogs dvd from the loft
Turns out Fun had another hit. Give it a listen- if you liked the first one you may like this one. Who knows? you may not even be you when you leave the house next. 
21. Sweet Disposition- The Temper Trap.
This song always reminds me of Summer drives with the windows down, in other words good times. It might do the same for you.
22. Undercover Martyn- Two Door Cinema Club.
Another great song from these guys. And another song that everyone knows the words to. What more can you ask. If your Bored, then try something new. 
23. Best Day Ever- SpongeBob Square Pants.
A slightly unusual artist here but nonetheless a great song. Another song to try and convince you you are having a good day.  Go on! if you have nothing better to do, then bring out your childish side. 
24. Don't Stop Me Now- Queen.
More happiness is never a bad thing and this song will definitely bring the happy. Sing it from the rooftops during the coronavirus and show your street how well you can belt out a tune. 
25. I Will Always Love You- Whitney Houston.
One of the best artists in the last 30 years and arguably one of the best songs of the last 30 years. Play it loud for all those missed loved ones
That feeling you get when you have been sat on the sofa too long watching box sets on Netflix.  Blast out some REM on those boring days
27. Best Song Ever- One Direction.
You could sue for false advertising as this is not "The Best Song Ever", but it is quite catchy and might get you through the coming weeks.
28. Summer- Calvin Harris
The summer could be the next time that we can all leave our homes. Play this song when your mind is saying i'm bored and think of those long days at the beach supping a cold beer or wine. 
29. Dancing in The Moonlight- Toploader.
A favourite in the world of house parties, this is a great song to listen to and reminisce about Summers past. Or even to think about partying in the dark during the curfew so you don't get caught. 
30. I Want to Break Free- Queen.
This should really be further up the list as this literally the best quarantine song ever. Even if you do not like Queen then it will still perfectly encapsulate your situation.  
31. Call me Maybe- Carly Rae Jepsen.
This song truly is awful but the message of the song is really very fitting, especially as you can't see anyone face to face
32. September- Earth Wind and Fire.
Hopefully the lockdown does not carry on till the aforementioned month but even if it does, then this song will be there to make you feel better.
Another Coldplay song in the mix, but this is one of the greats. A great feel-good song just when you need it most when you are bored out of your mind.
34. Bohemian Rhapsody- Queen
The idea behind this selection is that you could learn all the parts to the song during the time that you are in quarantine. Give it a go.
This takes me back to a time when we were free and could joyfully skip around the fields with not a care in the world. Listen to this song and be catapulted back to a simpler time.
36. Party Rock Anthem- LMFAO
Since you cannot have an actual party with real people, you could have one by yourself with this anthem blaring in the background.
37. Hakuna Matata- Nathan Lane
A soundtrack to one of my favourite childhood films and a song that has survived the test of time. Also, look up the translation of its title- you may find something interesting.
hen you have drunk way too much and you are bored at home. Crank up the karaoke machine and start warbling to this Swedish classic
39. We Are Family- Sister Sledge
Since you are stuck with them you might as well show some solidarity with them.
Because that is what everyone is drinking; partly because they have run out of a more drinkable white wine and because it fits with this slightly funny metaphor.
That brings us to an end of the best coronavirus quarantine songs top 40. Any more suggestions then leave them below and make sure to stay safe.
Credit Will the Writer