Timelapse Google Earth
See your own town or city over a 25 year period.  Since the mid 80s satellites have been taking images of the entire planet and storing them on a huge database.  These images have now been released and you can now see a timelapse google earth slideshow of virtually any place on the planet.  When you visit this website you can start off with a preloaded slideshow such as Las Vegas, The Amazon Rain Forrest or the Columbia Glacia.  Once you are done with that, why not pick your home town? see how it has evolved since 1985.  This cool website will keep you occupied for hours on end if you love geography or geology, or even if you are a closet geek that loves this type of thing.
So sit back, get the snacks in and take a virtual tour of the world from the comfort of your own home or office.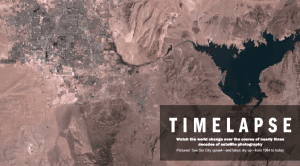 Take Me To This Website
Hit Me A Random Website
When you are done touring the world why not pay a visit to our community forum? Here you will find like minded bored surfers who are looking for something a little bit different to waste time on. Why don't you pop along for a visit and say hi? we would love to hear from you..