The Deep Blue Sea
Have you ever wondered what it would be like to take a journey to the bottom of the deep blue sea?  Well now you can with this virtual tour.   Each meter you drop down into the ocean shows you what weird and wonderful animals you can expect to see.  Start your journey swimming amongst clown fish, polar bears and salmon, but as you delve deeper you hit the twilight zone and midnight zone.  Here you will start to see the spooky creatures that are the stuff of nightmares.   throughout your journey to the bottom of the deep blue sea you will get a range of wonderful and fantastic facts, such as the worlds most famous ship.  On April 14th, 1912 the Titanic sank to its final resting place at a depth of 3,800 meters.  When you have finished scrolling down to the bottom of the page you will see the submarine that took the human race to the deepest part of the ocean. The challenger deep reached a depth of 10924ft.  A massive 2000 meters higher than Mount Everest.
We promise you, if you love all things geeky, then this is the website for you.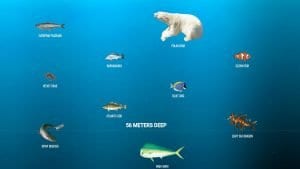 Take Me To This Website
Hit Me A Random Website
If you loved this facts and figures website then check out the other sites in this category.  Here you will find a huge range of virtual tours and all round clever stuff to show off to your friends and family.  Did you know that we are always on the look out for fun sites and weird sites to add to our list.  So if you know of any, or even own one yourself, then get in touch with us. And think about how you would have done your bit to help people who are bored at work, have nothing to do in the home or people who have just had a crappy day and want to see something different to Facebook.  We have it all.