The Bible Created With Just Lego Bricks
Taking 12 years to complete the Brick bible is one artists project to tell the story of the old testament and new testament using just logo bricks and Lego people. The artist of this site Elbe Spurling created this with a view to increasing peoples knowledge of the bible and clearly has come up with a fun and unusual way of doing it.
So what's it all about?
Each chapter is split up into a slide show, and each slide has a scene re-enacted with the famous yellow people playing the staring role taking actual quotes from the good book. As the Lego company have never created anything religious wise before the artist had to meticulously find and create each character from scratch, making the creation even more impressive.  So if you're bored in the house and have always had an interest in reading the Bible, but found it too big and imposing, then give this a try. We promise you that you will get through this version a lot quicker than the paper based one. Plus it's really fun and interactive.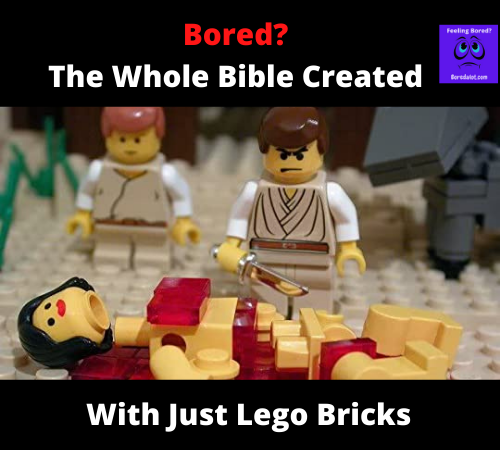 Want some more bored websites?
This Website is part of the Fun sites category. The home to just general all round fun and weird stuff. Here you will find uncut diamonds that we have found in the far reaches of the web, including.  The star wars into creator and the traffic cone preservation society.  Sites that will put a smile on your face, but at the same time have you scratching your head in disbelief.
We promise you that our extensive archives with 1000s of sites will keep your boring life in check for the rest of your life. Scroll through our categories and tags to see more, or simply press the random website generator to let us do the hard work for you.