Play The Super Nintendo Emulator
Do you remember the good old days of the 80s and 90's where Super Nintendo, Gameboys and Sega Master Systems were all the rage? Well this emulator will bring everything flooding back.  A team of boffins have found a way to allow you play the classic games such as Super Mario, Tetris and Sonic the Hedgehog from the comfort of your own couch.  If you're bored at work, or at home and are looking for fun things to do online then look now further.   As well as the more common console classics you can also play a range of other games.  Practice your skills on FIFA 96 and your city building skills on the original SIM CITY. This range of online bored games is guaranteed to keep you occupied when you have nothing to do with your day.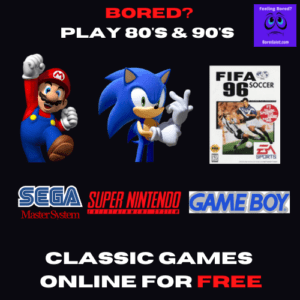 This link is part of the fun online games category. Here you will find some of the weirdest and unusual games from every corner of the net. Games such as drunk walking, how far can you stagger back home after a night on the beer? or what about the 100 meter scroll? test your thumb muscles by scrolling the entire 328 feet. And when you are finished playing you can move onto the next section. We have thousands of websites to cure boredom and have a link for every niche. Don't believe us? well give us a try. We promise you that you will never be bored ever again. 
Are you a weird website owner? then submit to us, we are always on the look out for new and inventive boredom websites to keep our avid followers occupied.  Simply drop us a line or use the link in the menu. We would love to hear from you.