Spectacular Science Experiments Simple Enough to Do at Home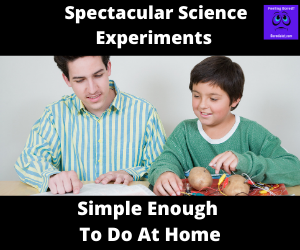 When you hear your kids say, "I'm bored," you just know that you have to come up with something to entertain them before a tantrum explodes. When you're stuck at home, the common misconception is that you're faced with limited activities that you can do. You've probably tried performance and art activities, but have you tried conducting simple science experiments?
You don't need to go through years of school or have experience working in a tech lab to dip your toes into science experiments. You can do numerous simple experiments at home that's perfectly safe for you and your kids. 
So if you've been pulling your hair thinking about what else you can do to entertain your kids, don't fret! We've rounded up different scientific experiments that are perfect for dull and lazy days. Trust us, these experiments are all tried and tested and have passed our scientific home lab standards. So put on a lab coat, safety goggles, and let's start!
Tornado in a bottle
One of the most visually stunning and easy experiments that you and your kids can do is recreate a tornado inside a bottle. For this experiment, you'll need to connect to bottles with some water inside.
Start by whirling the liquid in the top bottle to create a vortex. As the water drains to the bottom bottle, air will flow up and create a spiralling tornado. 
To make it even more magical, you can add glitter, food coloring, or lamp oil to the water. 
Super gooey slime
Kids love to use their hands and sense of touch to explore and play with different objects. Wait until they find out that they can make their own gooey slime. 
To make super gooey slime, mix glue, water, food coloring, and some borax into a bowl and watch as the gooey slime forms. This happens because the glue contains polyvinyl acetate, a liquid polymer, and links to the borax. This creates a gigantic flexible polymer called slime. 
You can make this even more fun by creating a rainbow of slimes for your kids to play with!
Baking soda volcano
When your kids are bored, the top-tier of homemade experiments and one that will instantly impress your kids is a baking soda volcano. The great thing about this experiment is that not only is it safe, but the explosion will immediately dazzle your kids.
To do this, you want to make a mountain with soil and pierce a hole right down the middle as its crater. You'll then want to add a bit of baking soda inside the hole and let your kids pour the vinegar.
This happens because the baking soda and vinegar's chemical reaction creates lava that's bursting out of your soil volcano. 
Conclusion
When your kids scream "I'm bored," home activities don't need to be all about playing. Easy science experiments like the ones we mentioned above can not only entertain your kids but also squeeze in some science topics that your kids will learn from. So gather the kids, all your lab tools and "chemicals" that can be found in the pantry, and be scientists for a day!
If your kids keep screaming, "I'm bored," don't panic! Bored A Lot is here to serve up countless ideas you can do when you're unsure how to spend your days. We have a random website generator and categories for sites you can visit, and articles filled with activities you can try. Fill up the hours of your day with fun, and check out our website!