Teleport Me Somewhere New With The Random Google Street Map
Don't you wish that you could Teleport yourself to any random street or view in the world? Well this random google street map viewer does this for you.  Simply press the GO button and from the comfort of your computer you will immediately be shown an image from anywhere in the world.   Japan, Greenland, China, this cool website covers 50 countries, and if the randomness is too much for you.  You can filter the search down to random streets in your own country.
You could literally spend hundreds of hours of your boring life scrolling through this website and you will see a different image each time.
Map Crunch really is an amazing site to cure your boredom, and it will make you feel like you have been on a whistle stop tour around the world from the comfort of your home or office.  Perfect for someone who would rather be somewhere else than where they are now.
Let us know your favourite random google street map location in the comments section. Or even if you stumbled upon your own house.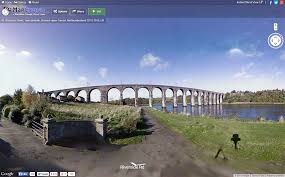 Take Me To This Website
Hit Me A Random Website
This website is part of the useless and pointless websites category.  Here you will find hundreds of  the most useless and random websites the internet has to offer, such as an online store that sells real air guitars and the traffic cone preservation society.   Don't forget, if you own, or know of a pointless or useless website then submit it to us. Providing it's unique, we will then try our best to add it to our vaults.