QWOP – The Worlds Hardest Game
The QWOP  game is quite possibly the hardest game that has ever been invented. Test your knowledge of anatomy to make the athlete run. We manged to get to a fantastic 4.17 meters which is barely a step in Usain Bolts world.  The Keys are QW for the thighs and OP for the calves. Sounds simple right? Well give it a go!
How to Play?
Put your knowledge of the human body and physics to the test, as you try to control different parts of an athletes body to get them across the finishing line. You only have four keys to play with, so if you think this will be easy, well, you are in for a really big surprise. On the bright side, your boring day will be cast aside after playing the QWOP running game. This is perfect for people who want a challenge whilst having a giggle fit as you fall flat on your face.
Let us know in the comments how you did and whether you managed to get to the end of the race at 100 meters.  Who will be the first of our followers to do it?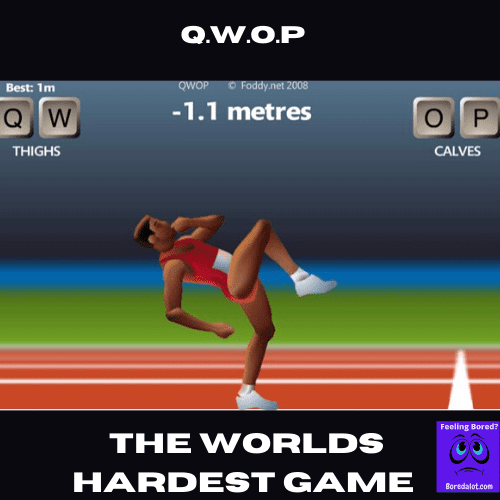 Take Me To This Website    Hit Me A Random Website
Still Bored?
This link is part of the games for boredom category.  Here you will find all of the games that have been plucked from the four corners of the net. Some of them are weird, some of them are funny, but we promise that all of them will relieve your boredom if only for a few seconds.  And don't forget, boredalot have 1000s of websites to cure your boredom, so when you are done here, why not navigate around the rest of our website and see what we are about. We promise that we have a link for every niche and taste you can imagine. So Google I'm Bored no more. We are the one stop shop for all of your boredom needs when you have nothing to do online.