Are You A Bored Practical Joker? Then Check Out These Office Prank Sounds
If you are sat in the office bored out of your mind? Are you feeling a little mischievous? Then this office prank sounds generator is all that you need.  Simply get access to a poor souls computer.  Log onto the website, set the timer, and choose from a range of hilarious sounds.   Our particular favorite is the explosive diarrhoea. Once you have set your trap, minimise the screen, return to your desk and watch the carnage begin from a distance. Just try your best not to laugh as your victim tries in vain to silence the sound around them. This is also perfect for people in the house that are spending too much time on their device and you want to poke fun at them. If you are young enough to be reading this we recommend your parents.
Sure the troll timer is cruel, crass and a little immature, (Well maybe a big bit of immature) but we love it and we are sure that it will kerb your boring day for at least a little while using other peoples embarrassment and suffering.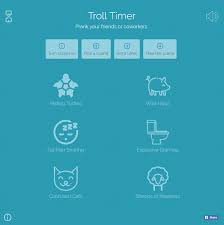 Let us know in the comments if you have managed to troll any of your friends or co workers with this prank for bored people
Take Me To This Website   Hit Me A Random Website
Still Bored?
If you are still looking for mischief then why not check out the other prank websites in this category?  Try out the poop delivery service.  Yes! you heard us correctly. A website that will deliver poop directly to someones door. Or why not create your very own ransom note? perfect if you want to pretend to have kidnapped a family pet.  And when you are done with that category, keep exploring via the other categories on our site. There are 1000s of wonderful and weird websites to keep you occupied for the rest of the day.