The Wiki Game – Perfect For Boredom
The Wikipedia race is a cult game that pitches multiplayer's to get to a target page by simply navigating through Wiki . You all start with the same randomly selected article, and the Wiki Game winner is the person that gets to the target article with the least amount of clicks.  Phew that was hard to explain.  Since it's launch the game has diversified into several different versions, such as 5 clicks to Jesus.  Can you get to his page in five clicks or less? or the 2 player challenge This is where  both parties take it in turns to tell the opponent which two pages then need to navigate between. The site architects claim to have over 45,000 users of per month and clearly this has a massive following around the world.  Let us know in the comments how you got on and the strangest start and goal paces you managed to link together.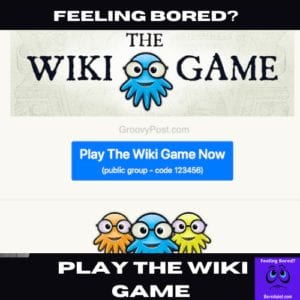 Take Me To This Website    Hit Me A Random Website
Want Some More Bored Websites?
We hope you enjoyed the Wiki Game. This link is part of the cool games for boredom category. Here you will find the weird and unusual games and bored websites that our researchers  have plucked from the 4 corners of the internet.  Games such as the Drunk Walking Game, try and make your way home after drinking a bucket load of beer at the pub.  How far can you get? Or why not try the worlds hardest game? QWOP gets you to move an athlete by only using these keys on the keyboard. We promise you it will have you in stitches.
Submit A Boredom Link
We are always on the look out for weird and inventive websites to add to our archives.  If you know of any that you think our followers would love then get in touch with us. You will find the form via the menu section at the top of the screen or via the link at the bottom of the home page