This Cool Website Takes Snacking To A Whole New Level By Showing 100s Of Images Of Ginormous Pimped Up Food
Pimp my snack has been around for years. It started off with the website creator designing a humongous Kit Kat Crunchie. When they posted this concoction on social media, the whole concept of pimped up food was born. Nowadays, this hilarious website post 100s pictures from around the world of virtually any food that has been up scaled on a monumental scale.  Our particular favorite is the huge Jammy Dodger.
So if you're bored and looking for something to do, then fire up the oven and start pimping up random food from your house. Who cares how it tastes, the bigger the better!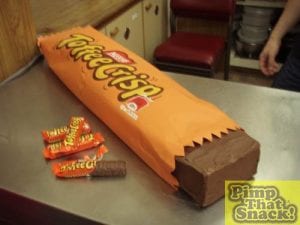 Take Me To This Website Hit Me A Random Website