Paint Your Own Nails Simulator
Are you into your beauty? do you love to paint your nails? well this simulator does this for you? This nail polish dexterity game will test your hand eye co-ordination whilst at the same time curing your boring day! use your mouse or mouse pad to paint nails. This is a perfect way to kill time without having to think.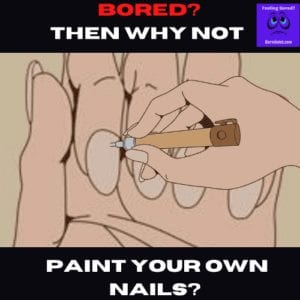 Take Me To This Website Hit Me A Random Website
Still Nothing To Do?
If you loved this paint your nails simulator then check out the other posts in the useless websites category. Here you'll find the most pointless sites that have been plucked from the 4 corners of the internet. Some of these are crazy, weird and bizarre, but all of them are really good fun. Sites such as the live fish tank camera ' the worlds oldest live webcam' or what about the 'air sick bag museum' every sick back that has been ever made. Once you're done with that category then check out the others in out vaults, including interesting websites, fun sites and weird websites. So don't hold back any longer, kill that boredom now!