Predict Your Future With Some Online Palm Reading
Are you sitting in your home or office bored out of your mind? wishing that you could predict if you are due to have an awesome and fun future? Well this online palm reading tool is the cool website that you have been looking for.  Learn everything you need to look for on your own hands.  Will you find happiness and adventure? how long will I live for? what are my strengths and weaknesses?  Get all of these questions answered and more. To begin with you will be asked a series of questions such as your finger type, the type of fingerprints you have and of course the types of lines that you have on your hands. Believe it or not when all of this information is entered your will get a comprehensive analysis about what it all means.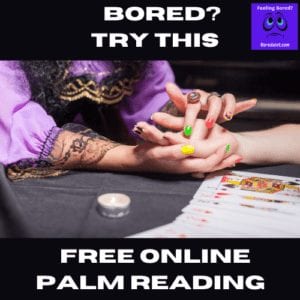 Take Me To This Website     Hit Me A Random Website
More things to do online
This link is part of the weird websites category. here you will find all of the strange, bizarre and odd websites that we have found in the extreme corners of the internet. These sites are guaranteed to cure your boredom and will have you itching to explore further. When you are done with this section move onto the next. We promise you that once you start navigating our site we will be your one stop shop ifor all of your boredom needs instead of Googling i'm bored.