Bored? Then Visit This Virtual Button Museum
This website does exactly what is says on the tin. It is dedicated to providing it's visitors with every possible type of button and badge you can imagine. The owners of this website are a brother and sister duo who have built up a collection of 1000s of pieces that the sell through their shop. The button museum is split into loads of different sections ranging from art to sport, there is even a category dedicated to the city of Chicago.  We haven't a clue why? When you click on a button within the museum you are taken to all of the important information such as size, shape, description, and of course the all important answer as to whether it has a locking pin on the back or not.  If you want to while away your boring day looking at what is quite possibly the worlds biggest collection of badges and buttons, then this website is all you need.   Let us know in the comments section if you managed to get through them all and which one was you're favorite.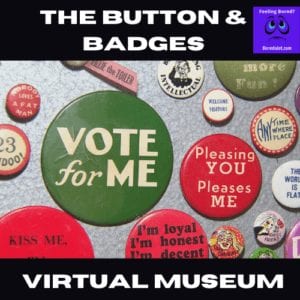 Take Me To This Website    Hit Me A Random Website
More Useless Websites ?
This link is part of the useless websites category.  Here you will find the most pointless sites on the planet that have been plucked from all 4 corners of the internet by our team.  Sites such as Pablo the dancing flamingo. Yep you heard us right! a dancing virtual flamingo.  You can also check out the virtual stapler. If you have always loved the sound of a stapler going off then look no further.  Once you are finished with this category move onto the next. Bored a lot is the one stop shop for when you are feeling bored and are looking for something a little bit different to Facebook and Youtube.  We have 1000s of links so rest assured there really is something for everyone.