Bored? Then Why Not Talk to Strangers?
Are you sat in the house with nothing to do? Well Omelge is one of those strange websites to visit when you're looking for things to do online when your bored.  Created back in 2009 by an 18 year old kid, this site allows you to chat to complete strangers about absolutely anything you want.  Depending on how brave you are you can either chat by the standard chat, or you can go all out and have a live web cam conversation with someone you have never met before in your life.
This weird website is perfect for people that are sat in the house, bored out of thier mind and looking for something fun to do online.  But a word of caution. Please be very careful when chatting on this sites as you may come across someone even weirder and creepier than you.  We recommend that you take advantage of the spy mode where you can remain anonymous. You can then decide whether you wish to share your wallpaper and face with some random stranger.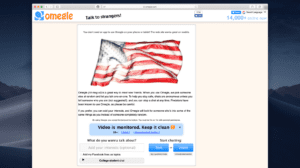 Take Me To This Website  Hit Me A Random Website
Omegle is part of the weird websites category which houses some of the most bizarre links from the 4 corners of the internet.  This includes 'the huge scary spider' a website that allows you to control a virtual spider on a floor. You can feed it bugs.   You can also stumble upon an online Ouija board.  Ifyou have a burning desire to contact the 'other side' then this is your opportunity.
We are also on the lookout for bored websites to add to our extensive vaults, so if you know of any links that we can add to this or any other category then we would love to hear from you. Don't forget, if you own the site yoursef then we can credit a link back to you.  Prety cool eh.