Bored? Then check out my instants
This cool and weird website is literally 1000s of buttons that produce different and funny sound effects. myinstands.com claims to be one of the biggest of its kind in the world.  And we can see why. Split into sections such as  Games, Movies, Television, Movies and Pranks. You simply choose the sound effect you like and away you go.  This is perfect for practical jokers and pranksters who love to joke with people, and people who are just bored and are looking for something different to do.  If you are looking for some inspiration on what to search for, head down to the bottom of the page and you will see the most commonly searched terms, such as funny  fart sounds, meme sounds, and the sounds of anime
Where else can you find effects  such as a Chewbacca in full voice, or old Batman transitions? There are  pages upon pages of  fun and completely useless effects that can keep you occupied for hours on end.  Any if you are feeling really creative, you can even upload your own sound effect to my instants.
We hope you enjoy this weird website. Let us know in the comments section your favorite sound.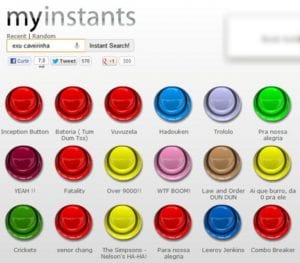 Take Me To This Website Hit Me A Random Website
If you loved this bizarre website for boredom then don't forget to check out the WTF category.  Here you will find a whole range of pointless and useless sites that will have your scratching your head.  Where else would you find posts such as celebrities without eyebrows, pimped up food and telepathic advertising?