Do you remember the 1990's?  You know, the time where the Spice Girls made their mark on the world for evermore and  the Fresh Prince landed in Bell Air.  Well now, a boffin of all things internet has come up with a really cool website that allows you to watch this era with your very own TV. It comes with a remote control and everything, which is just so cool.
What is My 90's TV?
Well we're glad that you've asked us, but it really is as simple as it sounds. My 90's tv is a virtual TV set that allows you to flick between channels and remember what it was like way back then. You can even pop on your shell suit and watch it.  See the commercials, watch the news and remember all of those awful games shows. With 15 different categories to choose from you're sure to prevent boredom for the rest of the day. The Bored A Lot team spent hours on this page, playing around with it and having general all round nostalgia. However, the great thing is that this is part of a bigger family. If you're a little older and you want to go back even further then you can try the 1980's and 1970s version of this. Think of it as time travel from the comfort of your own living room.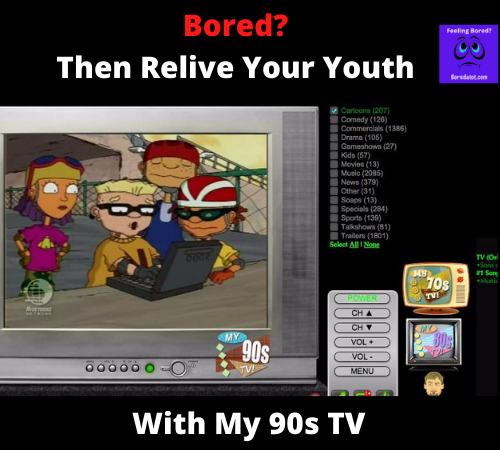 Still Bored?
This link is part of the fun websites category. The sites that we have found that will put a smile on your face. As well as the nostalgic TV  sets you will also find unusual websites such as hungover owls and the ever funny celebrities without eyebrows. But why stop there? We promise you that there is something for everyone in our archives and with literally 1000s of websites to choose from, Bored A lot is the only place you will ever need to visit when life becomes just too boring.
Submit a Useless or Fun Website
Don't forget that we are always on the look out for new and unique material. If you own or know off a site that you think we'll love then get in touch with us.