Museum Of Endangered Sounds
Get ready! it's time to reminisce.  Do you remember the sound of a VHS tape going into a video recorder? or the nostalgic call from a Nokia 3210? Well the museum of endangered sounds has these and much more. Relive your time from the 80's and early 90's, when Tamagotchi's roamed the Earth and rotary phone dials were a marvel of technology. This cool website has a huge range of weird and wonderful sounds from the bygone ages that you can have fun with the millennial's in your family.
Imagine what children today are missing out on not knowing the sound of a Windows 95 machine starting up? Say goodbye to a boring day and hello nostalgia with the Museum of Endangered Sounds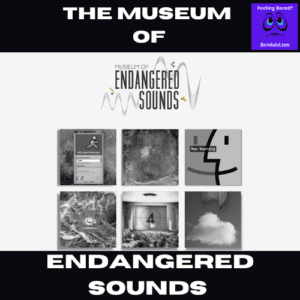 Take Me To This Website   Hit Me A Random Website

Want Some More Bored Websites?
This weird and wonderful website is part of the weird websites category. Here you will find all of the spookiest and strangest sites we have plucked from the four corners of the internet.  You can find links such as the cloud appreciation society, yes you heard us right. A website dedicated to the big, fluffy things in the sky, or how about taking a virtual tour of a real life abandoned asylum.  Perfect if you like a little bit of creepy.  We have 1000s of fun links to keep you occupied during these difficult times, so why not put that boredom to good use and start exploring our website.  We promise you, you will never Google I'm Bored ever again.    And don't forget, we are always on the look out for new links, so if you know of a website that we would like then get in touch with us and we will try our best to add it for all of our readers worldwide to see.