Bored? Then Try Moving Sand
How cool would it be to move half a screen of sand to the other half one pixel at a time?  This moving sand game is the ultimate boredom buster and will take hours to complete.  Once you start you simply can't stop.  And what's great about this game is that after hours of wasted time, you get to move all of the sand back to it's original position in reverse. you have 8610 pixels of sand on each side of the screen.  So there is no time to waste.  Visit the site now!
Don't ever say 'i am bored' again with this utterly useless but very addictive website.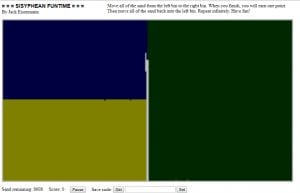 Take Me To This Website Hit Me A Random Website