Make Your Own Powerpuff Girls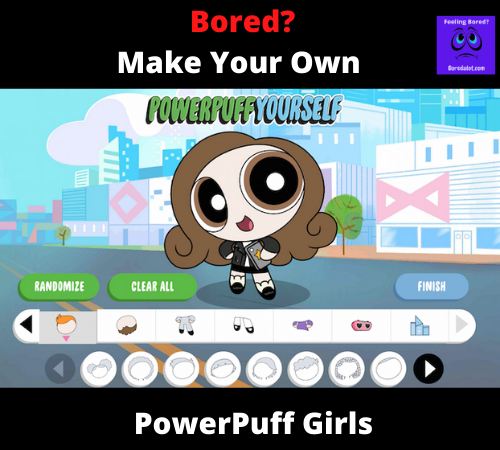 If you love the powerpuff girls then you will love this website. Powerpuff yourself lets you make your very own character from the comfort of your own computer or phone. Change every part imaginable to come up with your own unique look.  Play around with the eyes, hair, tongue, in fact everything you can think of. You can even choose your favourite accessory to accompany your look. We particularly liked the cute dog.
Starting in the early 1990s the Powerpuff girls quickly became a cult animated series that focused on the key characters.  Blossom, bubbles and buttercup, all of these were based in kindergarten and were always called upon to kick ass on al of the local baddies in town. As this series is coming up to 30 years old, it is not beyond the realms that people in their 40s could be curing their own boredom by coming up with a creation of their own. Just make sure you don't get caught by your kids. 
This is great fun for all and will give you at least some respite if you're stuck in the house with nothing to do. Have fun.
This link is part of the feeling artistic category.  Art & Design Websites that are designed to bring out your creative and crafty side.  As well as this, you will also find sites such as the south park character creator and the superhero designer.  All great fun and all capable of killing time.  As well as this category Bored A Lot also has 1000s of other weird and useless websites to get you  through the day. Grab the popcorn, close the curtains and lock the door. We've got you covered for the rest of the day.