Waste Time On This Website And Make A Bucket List
Are you sat in the home or office looking for something fun to do and bored at the same old stuff on the internet? Well this fun website is perfect for you.  Now you can make your own bucket list and look forward to life. This site claims to have helped over 100 million people achieve their goals in bizarre, wacky and cool ways.  Have you ever wanted to go ghost hunting? Go kayaking through caves? or walk the golden gate bridge? These are some of the most popular life goals, but the reality is that you can make a bucket list with anything you want.  Simply register your details, choose what you want to do and track it over time.  The possibilities are endless.  You can even share your goals with others on this site.  What's also great about this website is if you are lacking ideas and inspiration there are over 4,000,000 of them to give you some ideas on where to start. Perfect for people who want to see what others are doing and bounce of their journey.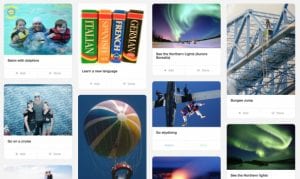 Take Me To This Website
Hit Me A Random Website
Let us know if you were able to make a bucket list in the comments and what you have included. 
If you are still bored after visiting this website then why not pay a visit to our top 25 bored websites?  This is a live list that is constantly updating to reflect what our fans are viewing and loving.  And don't forget, if you know of or own a website that you think our readers would love then let us know.  If it is unique, and it helps to cure boredom we would love to hear from you.  Once added, it will have a permanent  place on bored a lot for all time