Little Alchemy - Chemistry Simulator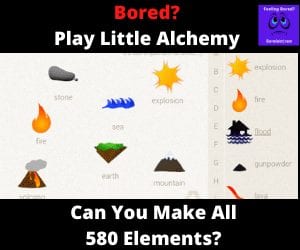 Little alchemy is a chemistry simulation game that challenges you to create 580 elements from just 4 basic items. Air, water fire and water.  So we know that water and fire makes steam and that air and earth makes dust so you should kind of get it by now? If your sat in the home or office bored out of your mind then this should keep you occupied for the rest of the day. We got to around 300 before admitting defeat. But can you reach the magic number and make every single element.  Alchemy is an ancient term for chemistry which was seen in medieval times as witchcraft or sorcery, so think of yourself as a virtual wizard or witch by playing this game. 
With over 150,000 hits each and every month this is one of the most popular simulation games on the internet, and the great news is that when you're all done playing this one there is a second one that is ready and waiting for you. To find that just click the test tube in the bottom right hand corner.  And don't worry, if your stuck there is a hints section as well as a huge number of websites that give away cheats and tips.
Let us know in the comment section how many you managed to get, and if you were able to get all 580 elements 4
Little Alchemy is part of the bored online games category. This section is packed to the rafters with weird and unusual games that make a pleasant change from the ones you see on x-box's or Nintendo's. Some of the these are so weird that we had to pluck them from the obscure corners of the internet. Games such as cookie clicker and push trump off a cliff.  So give Facebook and Instagram a break and spend some time navigating around our site. We commit to having a bored website for every niche and every type of boredom. So stop reading and get exploring our list of fun things to do online.