If you love Orca's or Killer Whales as they are move affectionately known the you'll love this Killer Whale Live Camera.  Located off Hanson Island in British Columbia this site has 4 cameras that are constantly in use. OrcaLab Base, Parson Island, Sea Lion Rock, and Cracroft Point.  These cameras form part of orcalab, a website dedicated to the research and conservation of both Orcas and humpback whales. The body of water stretches the Johnstone Strait & Blackfish Sound which is one of  the most prominent areas for these mammals in the world.  The great thing about these cameras is that they automatically flip the camera to where you may see an Orca, this is great if you are not so bored that you can stare mindlessly at a screen all day.   Our researches were watching the live feed for just a few minutes before we saw a school of killer whales. These 32 ft creatures posed a beautiful image on the screen and are guaranteed to give you the wow facior  This link is perfect for animal lovers who want to see a little bit of nature from their home or office.  The question is, are you bored enough to sit and wait for them?
Let us know in the comments what you managed to see in the killer whale live camera.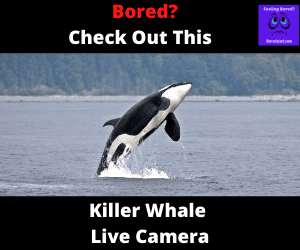 Want Some More Fun Live Cameras?
This link is part of the top websites category. This is where you will find the other live feed links we have in our archives.  Links such as the 72 oz steak live camera. Watch people tackle a monster 72oz steak in a Texan restaurant against the clock. Or how about ghost cam? Yes, that's right, a camera that is 24/7 focused within the rooms of one of the most haunted houses in the world.  Our Website promises to cast aside your boredom with the Internets largest range of sites for people having a boring day, we really do have something for every taste.