Keep Thinking I'm Bored? Then Why Not Take Up Jedi Training?
Welcome to the Jedi Training – The Ultimate cure for your boredom
Use your genuine real life virtual Jedi sword to deflect nasty looking orb droids. You must avoid from having the annoying little critters hit your handle. So how long you can last!? Take our advise, use the practice mode to configure what types of enemies you want to fight against and how quickly they regenerate. Oh, and of course to avoid total embarrassment when you play it for real.  Jedi Training is an awesome website that will slay that boring day and will turn you into a Jedi master by tea time!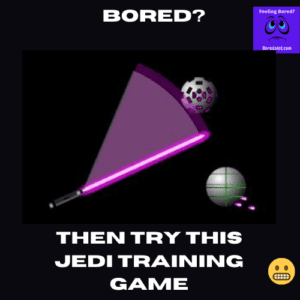 Take Me To This Website     Hit Me A Random Website

Still Bored?
This website is part of the cool games for boredom category.  Here you will find all of the weird games that we have plucked from the 4 corners of the internet. Classics such as the drunk walking game. How far can you stagger home after drinking a bucket load of alcohol? or what about the 100 meter scroll.  Yes, you heard us right, a game that challenges you to see how fastr you can scroll a full 100 meters with your mouse or finger.  A when you are done with that category, move onto the next, we have 1000s of fun sites across every niche you can think of. And if you're really bored then you can just hit the random website button to be transported somewhere different.